Chapter Information
In addition to the NeSPE State Level, we are pleased to have five chapters that represent various geographical areas throughout the state – please see the map below to figure out your home chapter!
Chapters maintain their own leadership and plan dynamic programming opportunities throughout the year, many times partnering with other allied organizations.  Chapters support activities such as MATHCOUNTS, and each chapter rotates in hosting our state annual meeting.
To become more involved with your chapter, please reach out to your respective chapter leader below! Each chapter will communicate their own meeting invitations via email as events are scheduled.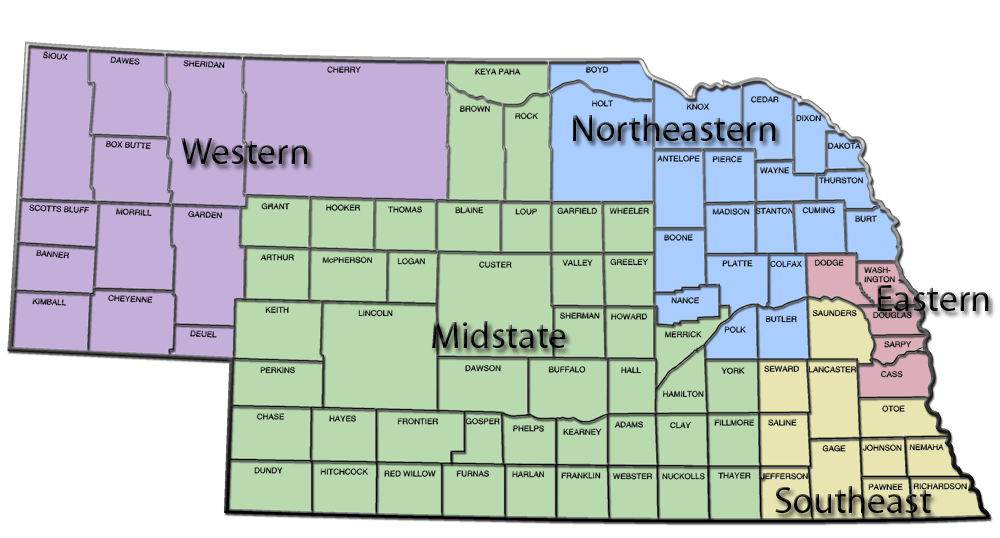 WESTERN
The western chapter is located west of Cherry, Garden, and Deuel counties. For more information, contact Larry McCaslin, P.E. at ldmccaslin@gmail.com
MIDSTATE
The midstate chapter is our largest one geographically. For more information, contact Phil Hammar, P.E. at phil.hammar@charter.net
NORTHEASTERN
The Northeastern Chapter of the Nebraska NSPE meets in Columbus, Nebraska, at the Ramada/River's Edge Convention Center, usually at noon on the first Monday of each month from October through May. For more information about NSPE membership or Northeastern Chapter activities, contact Tyler Kime, P.E. at tjkime@nppd.com
EASTERN
Our eastern chapter contains Omaha and the surrounding areas. For more information, contact Andrew Miller, P.E. at amiller@thielegeotech.com
SOUTHEAST
The southeast chapter includes Lincoln and all counties south and east of Lancaster. For more information, contact Steve Arens, P.E. at sarens@jeo.com